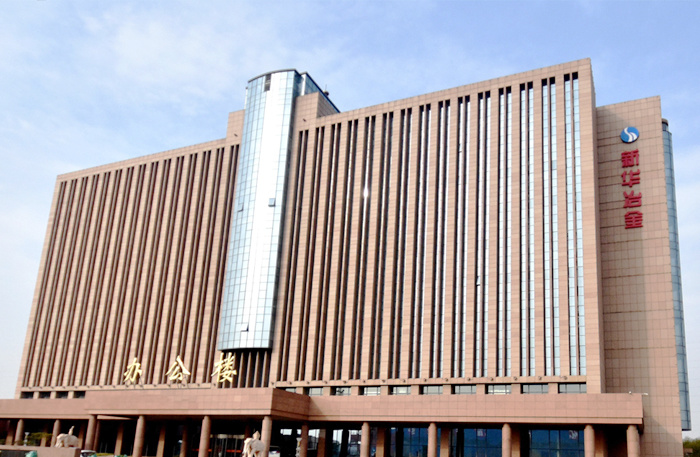 HEBEI SINOGIANT GROUP CO.,LTD
Hebei sinogiant Group Co., Ltd. (Xinhua United Metallurgical Holding Group Co., Ltd., referred to Xinhua metallurgy, moved from Beijing in Hebei Cangzhou Bohai Sea Area) is a set of sintering, iron making, steel making, rolling, residual pressure of residual heat gas power generation, wastewater treatment, coal chemical, gas and resources to participate in a number of banks and steel shares trade in an integrated economic use of recycled steel large private enterprises. Corporation by the Chairman of the Board, party secretary Sun Ji wood (eleven and 12th National People's Congress, Hebei seventh, eight party), Sun Xiang, president of Group Corporation (Hebei Twelfth People's Congress, the country Commerce and Industry Chamber of Commerce executive vice president of metallurgy) and Jianmin Corporation executive vice president and other top six components.
  Since 2003 Aspect Hebei zongheng Iron and Steel Company has been established, after more than ten years of great leaps and bounds, the Group Company has total assets of more than 400 million yuan, 1.8 million full-time employees, covering a total area of 16,000 acres. Mainly composed of iron Cangzhou Equipment Manufacturing Materials Co., Ltd., Hebei Iron and Steel Group Co., Ltd. aspect, Hebei Bohai Coking Co., Ltd., Hebei entities moderate cold rolled material Co., Ltd
Currently, the Corporation has achieved an annual output of iron, steel, timber more than ten million tons each, the annual generating capacity of more than 2.9 billion owned degrees (about 68% of the total electricity consumption), with an annual 2.2 million tons of carbon CDQ , 230,000 tons of methanol, tar, crude benzene, ammonium sulfate and other 50 million tons, 450 million cubic meters of natural gas, ultra-fine powder 3 million tons, the annual sales income of around 70 billion yuan, in 2014 the company ranked the top 500 Chinese enterprises 186, the first private enterprises in Hebei Province. Especially steel plates Corporation Cangzhou iron Equipment Manufacturing Materials Co., Ltd. produce iron, steel, timber each more than 700 million tons, 1.3 million tons of high-end cold-rolled automotive sheet and 2.2 million tons of coke, etc., is located in Cangzhou City, Hebei Bohai Sea Area , located in the Bohai Sea, around Beijing and Tianjin economic circle in the center, is a national key economic development should be, give the province of Hebei Province to build the province's economic growth pole. Group to take full advantage of its convenient location and Bohai New Huanghua port convenient logistics, relying on short distance of less than five kilometers of quay transport cost unique favorable conditions for foreign raw materials used in all production, overall equipment used in all 2500 m3 blast and converter 180T, hot-rolled 1780mm, 1250mm and 1450mm cold-rolled advanced equipment in the nation forefront of private enterprises, production scale among the nation's top three private steel enterprises. All product positioning annual ten million tons of high value-added specialty steel plate 100% cold rolled automotive sheet steel and is currently the North's largest hot-rolled special steel production enterprises, Hebei Province has made a great contribution to economic development .
On the majestic long journey roads Xinhua Metallurgical Group will be under the President of the Board of Sun Ji wood and Sun Xiang's president, led resolutely implement the scientific concept of development, adapt to the new normal economic trends, to further develop the port advantage, based on innovation, cooperation and win-win, continued to improve steel, the core competitiveness of the production-oriented industry, to extend the industrial chain and increase value-added products, and actively expand the industrial benefits, eventually build a business with a strong comprehensive competitiveness, sustainable development of China's leading large-scale private metallurgical Group .​
Hebei Sinogiant Steel Investment Co., Ltd