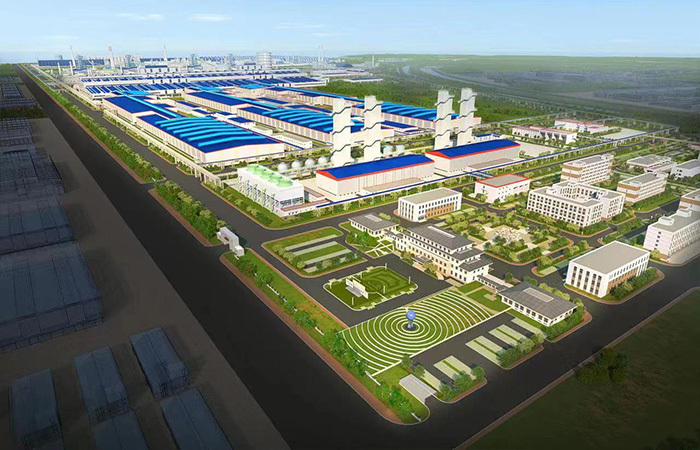 Hebei Zongheng Group Fengnan Iron and Steel Co., Ltd.
Hebei Zongheng Group Fengnan Iron and Steel Co., Ltd. was established in November 2016. It is located in the Lingang Park of Hebei Fengnan Economic Development Zone. It was built by China's top 500 company Xinhua Metallurgical Holding Group with an investment of more than 40 billion yuan. It is a steel-coke integrated long-process joint steel enterprise with more than 8000 employees. It is the first demonstration enterprise in Hebei Province for the joint reorganization of urban steel mills, relocation and transformation and upgrading of Hebei's steel industry structure adjustment, it is a water-saving benchmark demonstration enterprise in Hebei Province and an A- level enterprise with environmental protection performance. It is a national green factory enterprise.
The company's overall equipment is advanced. The main equipment is 2 7.65-meter carbonization chamber height 70-hole coke ovens, 4 2300-cubic-meter blast furnaces, 4 170-ton converters, 1 1700-millimeter and 2 1500-millimeter hot strip steel production lines, supporting industrial oxygen production, seawater desalination, dock transportation, comprehensive sewage treatment, residual pressure and residual gas waste heat power generation. The overall equipment reaches the advanced level of similar domestic enterprises.
The company's terminal products are hot-rolled coils, which can produce more than 100 steel grades such as plain carbon steel, pipeline steel, weather-resistant steel, high-strength steel, automobile beam steel, silicon steel, cold-rolled base material and high-quality carbon structural steel. The products have the characteristics of high strength, salt-alkali resistance, corrosion resistance, etc., and are widely used in high-speed train compartments, containers, home appliances, automobile structural parts, hardware tools and other fields. The product quality has reached the domestic advanced level, products have strong competitiveness.
The company's information construction has been fruitful, with more than 0.2 billion yuan of investment to build an information management platform, of which the core computer room is the world's first full set of Emerson data center computer room in North China, the whole process to achieve automatic control and intelligent management. Among them: environmental protection management and control integration platform, by the Hebei Provincial Department of Industry and Information Technology as a benchmark case of industrial Internet innovation and development, by the Ministry of Industry and Information Technology as an excellent scene of intelligent manufacturing.
The company invested more than 7 billion yuan to carry out ultra-low emission and in-depth treatment of environmental protection, and took the lead in completing ultra-low emission transformation and evaluation and monitoring among private iron and steel enterprises in Tangshan. Among them, the SCR desulfurization and denitrification environmental protection in-depth treatment project for sintering and rolling heating furnaces has reached the world level, the overall effect of environmental protection treatment has reached the peer level, and the company's green development has taken the lead in the industry.
The company pays attention to high-quality development: First, around the "double carbon" goal, in the energy saving, green electricity, carbon reduction, carbon fixation, continuous innovation and development approach, has implemented the blast furnace hydrogen-rich carbon cycle, distributed photovoltaic power generation and other projects. Second, relying on the establishment of provincial technological innovation centers and municipal innovation studios, we will continue to develop high-precision and high value-added steel varieties with market demand, speed up the research and development of new products such as weather-resistant steel, wear-resistant steel, high yield strength steel, and high-speed train bogie steel, so as to continuously enhance the market competitiveness of enterprises. The third is to actively explore the application scenarios of intelligent centralized control center, equipment intelligent operation and maintenance, robot replacement, etc., promote the manufacturing process of "less human, unmanned and intelligent", and strive to create a digital and intelligent pilot enterprise in the province.
Zongheng Iron and Steel Company actively implements the national "Carbon Peak, Carbon Neutral" action plan, comprehensively promotes "safe development, green development, innovative development, and high-quality development", and strives to build a green and low-carbon steel demonstration enterprise and a modern private steel enterprise.


Scan code for more information